What a strange and exciting trip so far. Here's a quick overview:
After Austin we drove through a post hurricane Houston and Texas coast. There was no power and we saw several cars trapped in sea debris. Saw some cops busting some looters. At sunrise we drove over a 30 mile bridge through a swamp in Louisiana. Eventually we made it to New Orleans early in the morning and found some food and showers. Slept most of the day and walked around this haunted voodoo town. We played upstairs in the Dragons Den with A Good Day for an Airstrike who later boarded us for a night. There was a total of 4 people that stayed after the first band to watch us and Voices and Organs. Next we decided to explore the city some more, which led us to Burbon street, which led us to a mechanical bull, etc. Then we time traveled to the next morning and there was only four out of the five of us. Per was missing and we assumed he met some nice stranger and had been out all night. We were supposed to leave at one and there was still no Per. Eventually we decided to call the police and hospitals, where we found out that Per had been arrested. Here's a picture of him in the slammer: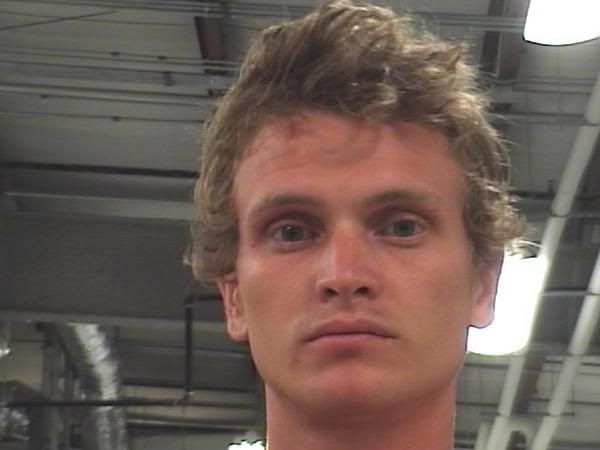 It took all day to bail him out and take care of his court appearance the next morning. The charges were dropped and the Swedes got most of their bail money back.
The next day we drove a long ways through Mississippi and Alabama to get to Atlanta. We arrived at the venue a little late and played immediately. At the show we met this awesome guy named Ted who owns a record store there. He seemed really nice so we decided to take him up on the offer to sleep on his record store floor. Ted's house was amazing. The guy had thousands upon thousands of records. His bedroom was just walls covered with stacks of vinyl floor to ceiling. Ted fed us very well and gave us all records of his band. Atlanta rules.
Next day we drove to Chapel Hill North Carolina, where we thought we were playing a show. Upon arrival to the venue we were told that there was a mistake and that we were supposed to play on tuesday instead of thursday. The venue was not flexible and we had no show. However, we did find a really nice person on couchsurfing.com who lives in a dorm on campus. She took us around town and gave us a very american college experience. I'll just say that they took us to a club called "Players" and leave it at that. In a few minutes we should be heading to Baltimore where a Big Neil awaits us.